Urban Chicken Licenses
On July 7, 2014, Red Deer City Council approved a Chicken Bylaw to regulate and control the keeping of chickens on a property within an urban area. This Bylaw requires residents to apply for and maintain a Chicken License on an annual basis.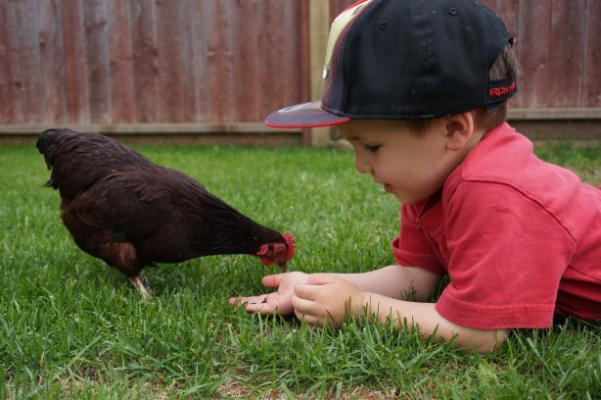 What is an Urban Chicken?
An urban chicken is a hen that is at least 16 weeks of age kept in an urban area within the city of Red Deer.
What are the details of the Chicken Bylaw?
The Chicken Bylaw includes such things as:
No person shall keep a rooster.
A Chicken License authorizes the keeping of urban chickens on a specific property.
A Chicken License allows for a maximum of 4 chickens.
An application must be submitted and approved.
A small fee will be charged along with the application and must be renewed on an annual basis (January 1 through December 31).
A maximum number of licenses will be issued each year, based on population growth. The initial number available will be 65.
Rules and Regulations
As a part of the Chicken Bylaw, a person that keeps urban chickens must:
Provide and maintain coop standards in size, floor space, sanitation and safe construction from predators as outlined in the Bylaw.
Hens must be provided with both interior floor area and outdoor enclosure, including the provision for bare earth or vegetated floor, within a coop.
Keep hens inside the coop at all times.
Provide hens with essential care to maintain good health.
Follow procedures recommended by the Canadian Food Inspection Agency to reduce potential disease outbreak.
Keep hens for personal use only.
Cannot sell eggs, manure, meat or other hen related products or slaughter hens on the property.
A coop doesn't require either Building or Development Permits, however it does have to be set back 0.9 meters from any property line and cannot exceed 10m2 or 2.4 meters in height as per the Land Use Bylaw.
Enforcement and Penalties
A resident who contravenes the Bylaw is subject to a minimum $100 penalty.
Upon receiving a complaint, an inspection will be carried out and residents will required to comply with the Bylaw.
Residents must also comply with any Federal and Provincial law or regulations around the keeping of hens. The Province of Alberta requires all owners of poultry (including small urban flocks) to register their flocks into a provincial database and obtain a Premises Identification (PID) number. This will enable the province to keep track of livestock in case of potential disease outbreak.
To Apply:
Fill out the Urban Chicken Application (pdf)
If you are not the owner of the property, a letter of authorization is required from the registered property owner.
Bring application and any other required documentation to Inspections and Licensing on the third floor, City Hall.
More information and resources
For Provincial and Federal information and regulations, please visit:
A local group called CLUCK Red Deer (Canadian Liberated Urban Chicken Klub) is a good place to get more information on how to keep urban chickens. They offer courses, coop tours and information to residents interested in learning more.
Website: http://cluckreddeer.blogspot.ca/
Email: cluck.reddeer@gmail.com
Contact:
Inspections and Licensing
The City of Red Deer
Third Floor, City Hall 4914-48 Avenue
Red Deer, AB
Phone: 403-342-8182
Email: licensing@reddeer.ca