Conserve Water & Manage Your Bill
Water conservation is key to ensuring the future of our most valuable resource.
Why do we need to conserve water?
The City of Red Deer relies on the Red Deer River for its drinking water supply. While The City of Red Deer is the largest urban centre that lies within the Red Deer River Watershed (serving over 100,807 residents), it also provides water to over 1,700 businesses and over 25,000 customers from surrounding communities including Red Deer County, Lacombe, Blackfalds and Ponoka. We all share the responsibility to ensure a healthy and sustainable water supply - not just for our communities, but for all ecosystems and wildlife in the watershed region.
What can we do?
To reduce unnecessary water use in and around your home, small changes can make a huge impact:
Indoors:
Keep a jug of water in the refrigerator, rather than running water until it is cold.
Wash fruits and vegetables in a bowl of water, rather than running water in the sink.
Fill one sink with wash water and the other with rinse water rather than letting the water run from the tap while washing dishes.
Check your toilets or faucets for leaks and repair as needed. To do this, put 5-6 drops of food colouring in the toilet tank. If, without flushing, the colour begins to appear in the toilet bowl within 30 minutes, a leak exists.
Flush the toilet only when necessary.
Replace old toilets with low-flow toilets. See the Toilet Rebate Program for more information.
Use low-flow showerheads and install aerators on faucets.
Do not leave water running while brushing your teeth or shaving.
Outdoors:
Leave grass clippings on your lawn. Clippings are 85 per cent water, reducing the need for watering.
Mow your grass only when needed. Taller grass shades the soil, retaining moisture.
Water your lawn infrequently and in the morning to prevent evaporation. If your lawn turns brown in dry and hot temperatures, this is normal. Lawns in a dormant state will become green when wetter, cooler weather returns.
Use a rain barrel to capture rainwater and re-use it for lawn or plant irrigation. See the Rain Barrel Rebate Program for more information.
Adjust sprinklers to ensure that only your lawn is watered – not the house, sidewalk, or street.
Check any outdoor faucets, sprinklers and hoses for leaks and repairs as needed.
More outdoor water conservation tips can be found at Alberta Agriculture and Forestry.
What is The City doing?
The City is constantly striving to find ways to reduce water consumption at our facilities. The Recreation Centre and downtown RCMP buildings are certified LEED (Leadership in Energy & Environmental Design) Silver, while many of our other facilities include:
Waterless urinals
Low-flow toilets and taps
Water-efficient landscaping
Rainwater harvesting and re-use
Monthly leak detections
Hot water pipe insulation
Water conservation signage in bathrooms and lunchrooms
The City of Red Deer Environmental Master Plan outlines a target to reduce per capita potable water 15 per cent in 2020, and 25 per cent by 2035 (based on baseline levels in 2009).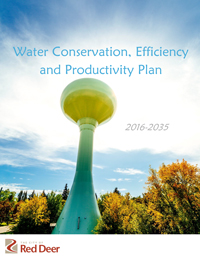 As our community develops and grows, so does the need to safeguard the resources that are crucial to our growth and the environment that surrounds us. The Water Conservation, Efficiency and Productivity Plan 2016-2035 (pdf) builds on the Environmental Master Plan's water use targets and provides greater detail about the initiatives that The City will implement to further cut water usage.
Existing Water Conservation Programs
The City offers the following water conservation programs to help residents achieve water conservation:
Leaking faucets and toilets or damaged meters can have an impact on your water bill. There are steps you can take to reduce water use and make sure your bill is accurate.
Simple Things You Can Do To Manage Your Water Bill
Ensure your bill is accurate
Compare your remote read (outside of house) to your water meter read (usually basement). The numbers should be the same. If not, contact us as you may be billed incorrectly. This should be done every three months.
Prevent water loss
Repair leaky faucets and running toilets
A steady faucet drip can waste 55 litres of water a day
A faucet leaking at a steady small stream can waste 1,460 litres of water a day
A leaking toilet can waste 4,300 of water a day
Check for hidden leaks. Your water meter reading should not change from when you go to bed and when you get up (before using water).
Conserve water
Upgrade toilets, faucets and shower heads to low-flow.
A five minute shower with a standard shower head uses 65 litres of water more than a low-flow shower head
Upgrading your toilet and qualify for our rebate program
Collect water in rain barrels for outdoor watering in the summer and consider Naturescaping your yard
Want more conservation tips?