Current Exhibits
Culture Services has relocated to 5205 48 Ave (former Central Intermediate School).
x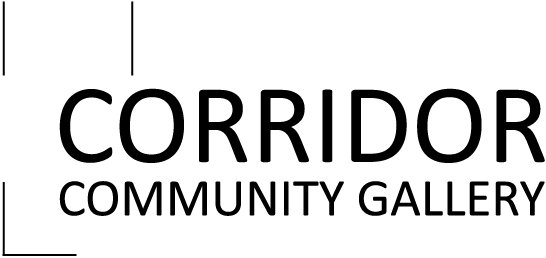 March 5 - April 30, 2019
Ashley Hunt - Alberta in Abstraction vol.1
The influences of developments, as part of our narrative through minimalist abstraction. Focusing on the urban and industrial influence over our surroundings I work to strip away the extraneous details, focusing on the serenity of the landscape and the simplicity of the developments. This exhibit explores the minimalist abstraction of our surroundings and the human impact on the landscape. I hope to cause the viewer to critically consider each structure that we leave in our wake. The juxtaposition of the strong industrial lines against the undulating serenity of the landscape creates an fascinating dichotomy that I explore in my practice. Working with a traditionally feminine palette, muted translucent layers are built up to create a depth and body to each piece. Strong contracting line work interrupts each piece, disrupting the peaceful ambiance of the terrain. It is my ambition to bring focus on man's influence onto the natural environment, showing how our modern developments are influencing our interactions.
About the Artist
Ashley Hunt is an emerging artist, who works primarily in mixed media and acrylics. She is an abstract expressionist who draws inspiration from local landscapes. As a graduate of the Alberta College of Art and Design, Ashley has had the pleasure to study under many brilliant local artists. She draws inspiration from Don Kottmann, Jean Michel Basquiat, Jackson Pollock and Hans Hofmann.
A long time resident of Alberta, Ashley has grown up surrounded by the mountains and stunning prairie landscape. Her work is influence by long drives across our ever changing landscape. Through her art Ashley wants to illustrate how industrialization is affecting our view of the world; if it can affect a country road in western Alberta it makes you think of the global implications. Ashley works at capturing a feeling and memory of a timeless moment as opposed to a visual reproduction of a space.
Facilitated by The City of Red Deer Culture Services and featuring the work of local emerging and established artists, the Corridor Community Gallery is located on the lower level of the Recreation Centre (4501 - 47A Avenue). Exhibits are changed bi-monthly.
Call to Artists:
Are you interested in showing your artwork in the Corridor Community Gallery? Please contact us at 403-406-8820 or culturemailbox@reddeer.ca

March 1 to May 3, 2019
Works in Progress: Public Art Process
The Viewpoint Gallery hosts a new exhibit - a behind-the-scenes peek at the art submission process for past Public Art competitions in Red Deer.
The exhibition presents a number of maquettes, drawings, models, and proposals that were used in actual public art competitions. A maquette is a scaled down model the artist provided in the final phase of the competition along with a detailed proposal, renderings or drawings, and an in-person presentation.
The City of Red Deer's Public Art Collection, held in trust for the citizens of Red Deer, represents an important piece of Red Deer's cultural legacy. The Collection consists of approximately 95 pieces of commissioned public art works of original artwork in a diversity of mediums including drawings, paintings, prints, photographs, sculpture, glass, ceramic, textiles, mixed media, site specific works and outdoor sculpture.
For more information on the Public Art Program or art works in the collection please visit www.reddeer.ca/publicart or contact the Public Art Coordinator at 403-406-8820.
The Viewpoint Gallery is located in the Culture Services Centre (5205 48 Avenue, Red Deer)
Please contact Josephine.debeaudrap@reddeer.ca with any questions.
Gallery Guide
Whether you're looking for that special gift, a piece for your home or simply venturing out for a fun afternoon of gallery hopping, view the Gallery Guide for a listing of Red Deer art galleries, locations and hours of operation.
For more information about the Gallery Guide, please contact the Red Deer Arts Council Visual Arts Committee reddeerartscouncil@gmail.com or 403-348-2787.