Books on the Bus
Books on the Bus connects Red Deer Transit riders with free reading material to enjoy during their commute, on their lunch break or anytime. Books for all ages and reading abilities are available including children's books, graphic novels and fiction and non-fiction for adults.
Take it, Read it, Share it
‌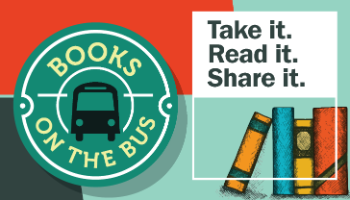 Take the books from the free mini libraries found on transit buses; Read to reduce stress, feed your imagination and create bonds with your children; Share the books with friends and family, or return them to the bus for others to enjoy.
This initiative is the first of its kind in Alberta and allows transit riders to build social connections and increase social engagement, which align with the Small Acts Matter campaign.
As a Red Deer & District Family and Community Support Services (FCSS) funded project, Books on the Bus will have far reaching impacts and will expand into several more initiatives in Red Deer County and surrounding communities through BOLT Regional Transit.
This initiative removes the barrier of access to books by making them readily available and free for everyone. Providing access to literacy materials is a poverty reduction strategy identified by the Central Alberta Poverty Reduction Alliance (CAPRA).
Donations of books can be dropped off at collection bins at:
Red Deer City Hall
Collicutt Centre
Dawe Centre
Recreation Centre
Sorensen Station
Special thanks to our partner organizations: Red Deer & District Family and Community Support Services (FCSS), Central Alberta Poverty Reduction Alliance (Capra), Cosmos, Red Deer Public Library and Red Deer Transit.
For more information, contact Social Planning at 403-342-8100.