Seasonal Patio Program
Expand your downtown food and beverage businesses onto a sidewalk patio during the summer months through The City's Seasonal Patio Program.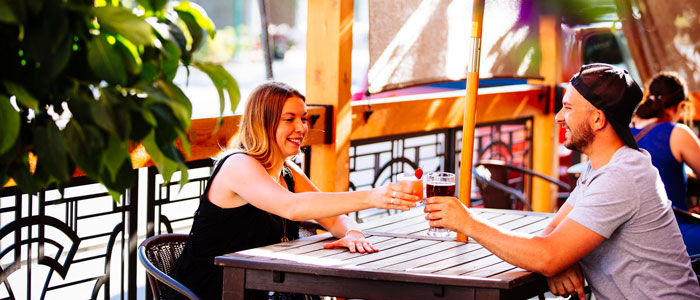 There are two types of seasonal patios in Red Deer:
Downtown businesses separate from Ross Street Patio
These patios require boardwalks to be installed around the perimeter of the patio to provide a safe, accessible walkway for pedestrians.
Downtown businesses within Ross Street Patio
These patios do not require boardwalks as long as the Ross Street Patio is installed.
Apply for a seasonal patio for your business
Downtown businesses dedicated to food and entertainment services are encouraged to apply for a seasonal patio in front of their venue. The City of Red Deer will build, install, remove and store necessary boardwalks. There is no cost to participating businesses for this service.
To apply, review the 2020 Seasonal Patio Guidelines (pdf) and submit your completed application to socialplanning@reddeer.ca. The deadline for applications is June 15, 2020.
Successful applicants must ensure that:
physical distancing of 2 metres is in place between patrons
hand sanitizer is available for patrons
patio design meets building codes
follow the requirements outlined in the program guidelines