Water Meter Replacement
Water meters are being replaced in Red Deer homes and businesses. The new water meters will improve customer service and billing accuracy.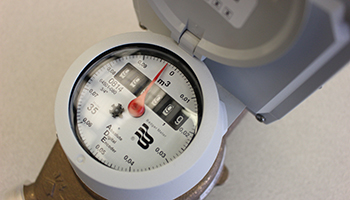 This multi-year project will upgrade outdated or aging equipment, reduce the need for estimation of water usage, promote sustainable practices and increase operational efficiencies in our community.
AMR Meter Project
As some meters in Red Deer age, they become less reliable and require replacement. Current equipment is no longer supported by the industry. Automatic Meter Reading (AMR) is now the industry standard technology, which provides better accuracy and reliability and reduces the need for estimating water use. The City has contracted Metercor and together we have replaced approximately 24,000 meters since the fall of 2014.
Replacement appointments
The contractor, Metercor, will directly contact homes and businesses to schedule meter replacement appointments.
Benefits
Efficiency - Water readings will be sent to meter reading staff driving by, eliminating the need for staff to gain access to the property.
Accuracy - Billing will be based on exact water consumption rather than estimating usage.
Water Conservation - Staff can monitor for potential leaks and quickly inform customers if a leak is detected at the property.
Have more questions? Read our Q&A
Water Meter Replacement Q&A Backgrounder (pdf)
Water meter replacement program education package (pdf)
Contacts
Utility Billing Service Centre
The City of Red Deer
403-342-8203
Metercor
Customer Contact Centre
1-888-290-3070