Neighbourhood Planning
Great neighbourhoods don't happen by accident. They are the result of careful planning and thoughtful design that creates places that are sustainable, walkable, vibrant, social, and liveable which increase the quality of life for residents of all ages and incomes.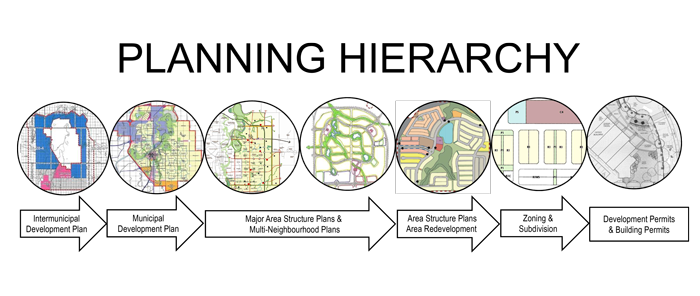 Building New Neighbourhoods
Great neighbourhoods contribute to the prosperity of our city, attracting new people, new business and creating vitality while allowing the city to respond to change over time. Great neighbourhoods are the foundation of a great city. The City of Red Deer's Neighbourhood Planning & Design Standards 2013 (pdf) outlines guiding principles, a set of standards and a process for building great neighbourhoods. The Neighbourhood Planning and Design Standards Appendix (pdf) provides additional information and guidance for preparation and submission of a Neighbourhood Area Structure Plan.
The design standards are not specific to any geographic area of the city and should be used in the preparation of neighbourhood area structure plans, infill developments and even considered during individual site design applications.
Neighbourhood Area Structure Plans
A Neighbourhood Area Structure Plan (NASP) is a required land use concept plan that must be prepared by a developer for any large undeveloped parcel of land, generally one quarter section (160 acres) in size or larger.
The NASP requires City Council approval. To facilitate subsequent zoning and subdivision decisions, these plans must conform to any applicable major area structure plan and provide a detailed level of planning information including, but not limited to:
land uses
all road and lane locations
types of residential/commercial/industrial development
number of dwelling units
community trail and park development
utility infrastructure and storm water management facilities
density
Current NASPs
For information about Neighbourhood Area Structure Plans contact Planning.
Outline Plans
Outline Plans are non-statutory land use concept plans that were adopted by resolution of Council to guide the subdivision and development within certain neighbourhoods.
Current Outline Plans