Blue Grass Sod Farm Central Spray and Play
Spring program registration is now open. Create your custom Activity Guide here.
x
Blue Grass Sod Farm Central Spray & Play is located at the northwest corner of Rotary Recreation Park (47A Avenue and 48 Street). It includes 7,500 square feet of free, accessible and creative fun.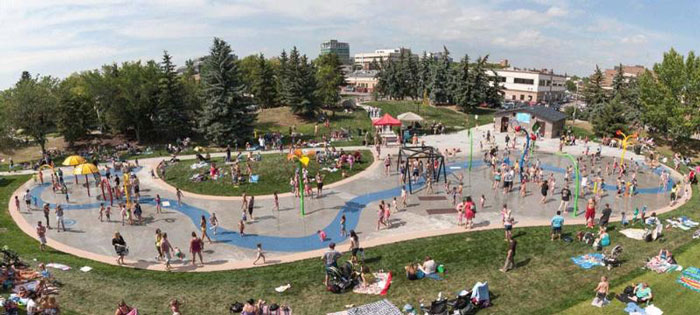 Hours of Operation
The Blue Grass Sod Farm Central Spray & Play Park is open from June 1 to the September long weekend, 11 a.m. to 7 p.m. daily, weather permitting.
Weather permitting - outdoor water features operate when temperatures reach 17 degrees + and when there is no lightning in the forecast.
Contact Information
Phone (Recreation Centre): 403-309-8428
About the Park
The park features spray, splash and play equipment focused on railway and river themes. The themes are symbolic of Red Deer's landmarks and ground the new facility in the city's rich history.
Other features include:
Access to public transit
Public parking
Treated water
Picnic areas
Fully accessible
Trail linkage
Seating areas
Washroom/change room facilities