Airboat
In March of 2019, Red Deer Emergency Services welcomed a new member to its fleet – an emergency rescue airboat. This new piece of equipment will be used for both open water and ice rescues year-round.
Emergency Rescue Airboat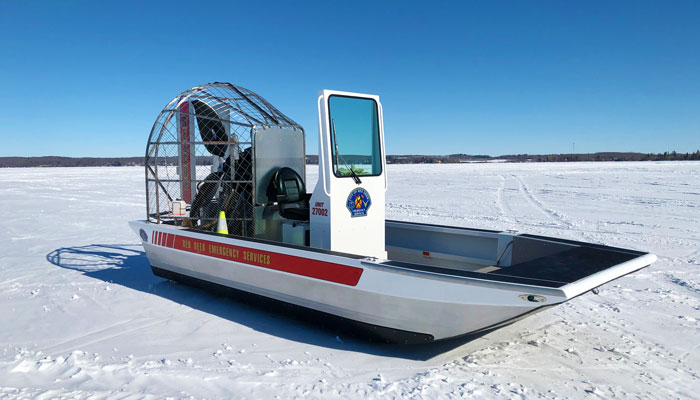 Why did The City replace the rescue jet boat?
The previous jetboat was an integral piece of equipment for emergency water rescues, however it was limited to warm weather use when there was no ice. The new airboat will be used year-round for water and ice rescues.
What will the airboat be used for?
The airboat will be used for water and ice rescues on the Red Deer River as well as any other body of water in the community where the boat can be launched. Upon request, crews may respond to surrounding communities during emergency situations.
Who will be operating the airboat?
Red Deer Emergency Services has dedicated members who have specialized training for airboat operations as well as water and ice rescues.
When will the boat be operational?
Training is ongoing for RDES and the boat is expected to be put in service in May 2019.
If I see the boat in use, can I go see it?
No. We understand that an airboat such as this can be interesting to look at, but it is an emergency rescue airboat. As with any emergency call our crews are responding to, for your safety and the safety of our members we ask that everyone stays a safe distance away.
The inherent design of an airboat means that there is more sound created by both the engine and fan blade. During the design and build process, all measures were taken to reduce the decibel output of the engine and fan blade. As the airboat will strictly be used for emergency rescues and training, our hope is that citizens will understand the advantage realized with this new craft.
If you have any questions or concerns, please contact us at 403-346-5511.