G.H. Dawe Fitness Area & Track
The newly expanded fitness area at the G.H. Dawe Community Centre is 9,500 square feet (excluding track) and consists of a running/walking track, cardiovascular equipment, cross trainers, stationary bikes, turf area, lifting area and resistance training equipment.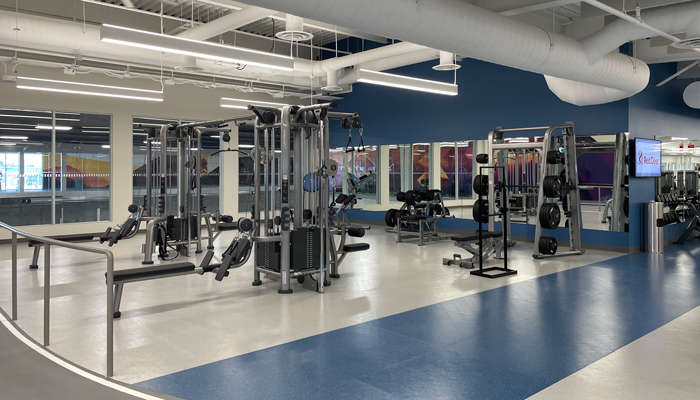 Change Rooms/Washrooms/Lockers
Accessible changing space
Private changing areas
Washrooms
Lockers
Change table
Walking/Running Track
4 lanes
760 feet (4.3 laps/kilometre)
Turf Area
8 x40 foot turf
Planted tire toss
Push/pull sled
Plyo boxes
HIIT and Functional Fitness Area (NE corner)
LifeStyle Synergy 180 station
Two ski ergonomic trainers
Rower
Team and Cardio Fitness Training Area (NW corner)
Hammer Strength Athletic Perimeter lifting station
Life Fitness Cardio Equipment
Squat Rack
Powermill
Mobility area
Small Group and Personal Training Area
Life Fitness Synergy 360XM group training rig with mounted TRX and a host of other equipment
Open space
Performance Lifting Area (SW corner)
Hammer Strength HD Series Power & Half Rack with platforms
Cardio HD Air Bikes
Inclusive Fitness Area
Life Fitness Cardio equipment
Selectorized and free-standing weights and cable systems
Cybex Prestige Total Access strength equipment
12-piece total body circuit
Equipment suitable for all abilities including visitors with limited mobility and cognitive conditions
Fitness Studios (East & West)
Please refer to the Fitness Area Use Guidelines (pdf) for detailed information on how to utilize the Fitness & Wellness Areas, including the Walking/Running Track.
Access and Fee Options