Waste Management Facility (Landfill)
The Waste Management Facility includes the landfill, household hazardous waste drop-off, recycling drop-off, and interpretive centre.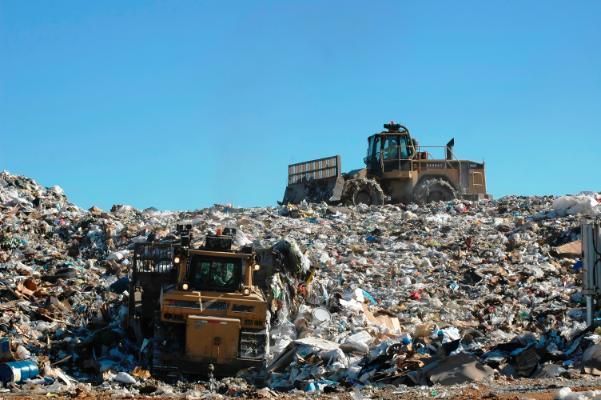 If you would like to drop off materials at the Waste Management Facility, we ask that you keep the following in mind:
Follow AHS guidelines and limit all trips to essential visits.
Do not visit if you are sick or self-isolating.
There are likely to be longer than usual wait times due to measures that are in place to protect staff and customers. Please be patient and respectful to staff and others.
Follow physical distancing guidelines and remain 2 metres away from others while on site.
Address
1709 – 40 Avenue (on the east side of 40 Avenue, south of 19 Street)
Hours of Operation
Summer Hours: April 1 – October 31
| Day | Hours |
| --- | --- |
| Monday - Friday | 7 a.m. - 6:30 p.m. |
| Saturday | 7 a.m. - 5:30 p.m. |
| Sunday | Closed |
Winter Hours: November 1 – March 31
| Day | Hours |
| --- | --- |
| Monday - Saturday | 7 a.m. - 5:30 p.m. |
| Sunday | Closed |
The facility is open all statutory holidays except Christmas Day and New Year's Day.
Tipping Fees (effective February 1, 2021)
Materials for Disposal
Rate per Tonne
Minimum Charge
Solid Waste (includes: residential waste, commercial waste, construction and demolition waste)
$77.00
$7
Special Waste (waste requiring special handling e.g. asbestos)
Please note: 24 hours notice is required for Special Waste. Phone 403-340-BLUE (2583)
$97.00
$97.00
Recyclable Materials
Rate per Tonne
Minimum Charge
Yard Waste (including grass, garden waste, branches and leaves)
$65.50
$7
White Wood Pallets, White Dimensional Lumber, and Evergreen Branches
$65.50
$7
Unpainted Gypsum Drywall
$65.50
$7
Asphalt Shingles
$65.50
$7
Scrap Metal (including propane tanks and white good appliances - an additional flat fee of $25 will be charged for appliances containing Freon)
$65.50
$7
Flat fee for appliances containing Freon (refrigerators, freezers, air conditioners, water coolers, etc.)
$25/item (in addition to rate per tonne)
Household Hazardous Waste
No Charge
Residential Paint Products
No Charge
Electronic Waste
No Charge
Tires
No Charge
Loads must be free of waste in order to qualify for lower rates. Mixed loads will be charged based on the item with the highest tipping fee.
All loads must be adequately covered or secured to contain all waste materials. A surcharge will be applied to loads that do not comply.
Accepted forms of payment are cash, debit card, credit card (Visa or Master Card), cheque, or pre-approved accounts for commercial customers.
For more information, call the Blue Line at 403-340-BLUE (2583).
Other Landfill Services
Compost and mulch are available for purchase at the Waste Management Facility starting May 3, 2021 until it is sold out.
Bagged compost and mulch is sold out for 2021. Bulk compost and mulch loaded loose into the back of your truck is still available Monday - Friday, 8 a.m. - 4 p.m.