Toys for Tickets
If you receive a parking ticket in November, you can pay it with a toy!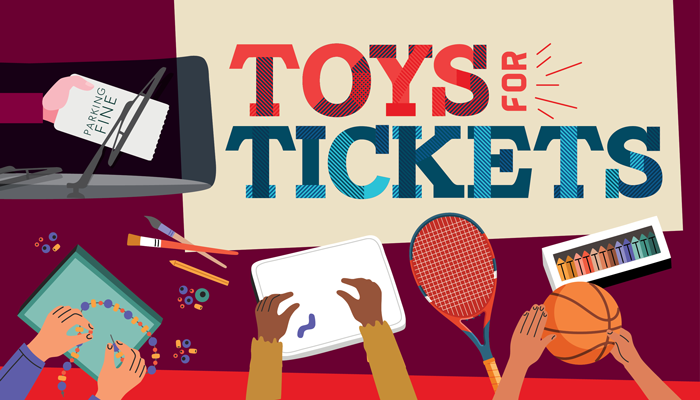 All gifts collected through this program are donated to the Red Deer Christmas Bureau to help ensure no child in Red Deer wakes up without a toy on Christmas morning.
How it works
Anyone who receives a City-issued parking ticket in November can pay it by donating a toy. Toys can be dropped off at City Hall until November 30 and must be of equal or greater value than the amount owing on the ticket. Toys must be new and in original packaging, and ticket holders must provide an original receipt showing the value of the toy.
In early December, The City rounds up all donated toys and delivers them to the Red Deer Christmas Bureau so they can be distributed to families in need in our community.
Please note that tickets related to residential snow plowing do not qualify for this program, but anyone can donate directly to the Christmas Bureau.
Making a list, checking it twice
Each year, the Christmas Bureau provides a list of popular items on kids' Christmas lists. In 2023, toys for girls aged 10-17 are in highest demand.
For a list of popular items for each age group, check the Red Deer Christmas Bureau's Toy List. When shopping, consider supporting one of our many amazing local Red Deer businesses!
For families in need
If you or someone you know is concerned about finances and could use a little help this holiday season, the Red Deer Christmas Bureau may be able to help. Visit their website to see program requirements and to apply for assistance.
More information
For more information on this program, please contact Parking Administration at 403-342-8185 or cityparking@reddeer.ca.
Resources for businesses
Toys For Tickets - printable poster for local businesses (pdf)