Protect your bike
Whether you use your bike for your work commute, leisure time with your family, or to stay active, experiencing bike theft is a frustrating experience. The City of Red Deer and the RCMP have partnered with the online bike registry 529 Garage to deter theft. It only takes a few moments to register your ride and to get a tamper-resistant coded shield (decal) that will let potential thieves know your bike is registered.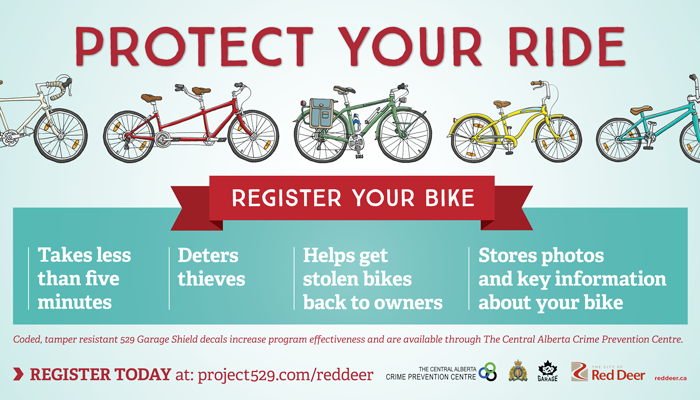 Bikes registered via 529 Garage show the thief that the theft will be noticed and reported, and that there is an online community who will be watching for the stolen bike using the photos and description you provided when you registered. The 529 Garage registration decal cannot be removed without removing paint. If the decal is painted over it will still be visible as it is outlined and textured.
How to register your bike
Register your bike for free online or via the 529 Garage App.
Pick up a coded, tamper-resistant shield decal at the Central Alberta Crime Prevention Centre (CACPC) for $5 or purchase one for $12.99 on Amazon.
For more information
Central Alberta Crime Prevention Centre, #1, 4311 - 49 Avenue
9 a.m. to 5 p.m., Monday to Friday
info@cacpc.ca
How to report a bike theft
If your bike has been stolen, it's important to report it to the RCMP to help the police better understand the scope of the problem. This step is also necessary to place an insurance claim or to collect your bike from any law enforcement agency that may recover your bike. To report your bike:
Contact the Police non-emergency line at 403-406-2200, or stop in at the RCMP Downtown Detachment, 4602 51 Avenue. If your bike is in the process of being stolen, call 911 immediately.
Start an alert on your bike on the 529 Garage website or app. If your bike isn't registered yet, register it first with all the information that you have about your bike, and then start the alert.