Archives
The Red Deer & District Archives is a unit of the Information & Technology Services department at The City of Red Deer. The Archives acquires, preserves and makes available to the City administration, and members of the public, records of historical and evidentiary value.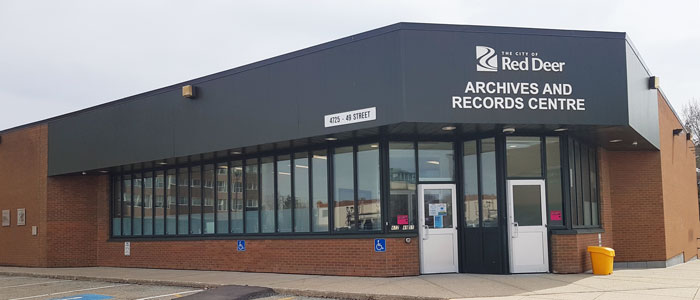 Department Responsibilities
The Archives was created in March 1964 by City Council to collect and preserve the documentary and photographic history of Central Alberta. It is the official repository of City records of enduring historical value and holds records from various public bodies and institutions. In addition to City records, the Archives acquires records from numerous clubs, organizations, churches, businesses, individuals and families.
The Red Deer and District Archives accepts records in a variety of formats. We have over 1,000 linear metres of textual records, over 100,000 photographs and over 7,000 maps and plans. In addition, the Archives has received numerous negatives, slides, oral histories, audio and video cassettes and reels, newspapers and electronic records. These records range in date from 1850 – 2021.
The Archives maintains a reference library of local histories and houses the library of the Red Deer Branch of the Alberta Genealogical Society.
The Archives is located in the Archives and Records Centre building. Free parking is available in front of the building and both the building and the Archives have barrier free access.