Collicutt Arena
Spring program registration is now open. Create your custom Activity Guide here.
x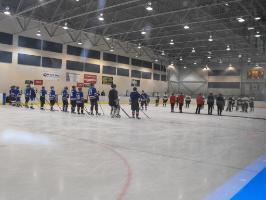 Our NHL size arena (61 meters x 26 meters / 200 feet x 85 feet) has 5 change rooms, one official's room, and an upper mezzanine spectator area with bleacher seating for 250.
Skate sharpening services are not available at this facility. Visit Got Edge Skate Sharpening Services at the Kinsmen Community Arena, 5 McIntosh Avenue.
Hoping to watch the game remotely? Catch up with the play with HockeyTV.
Access and Fee Options